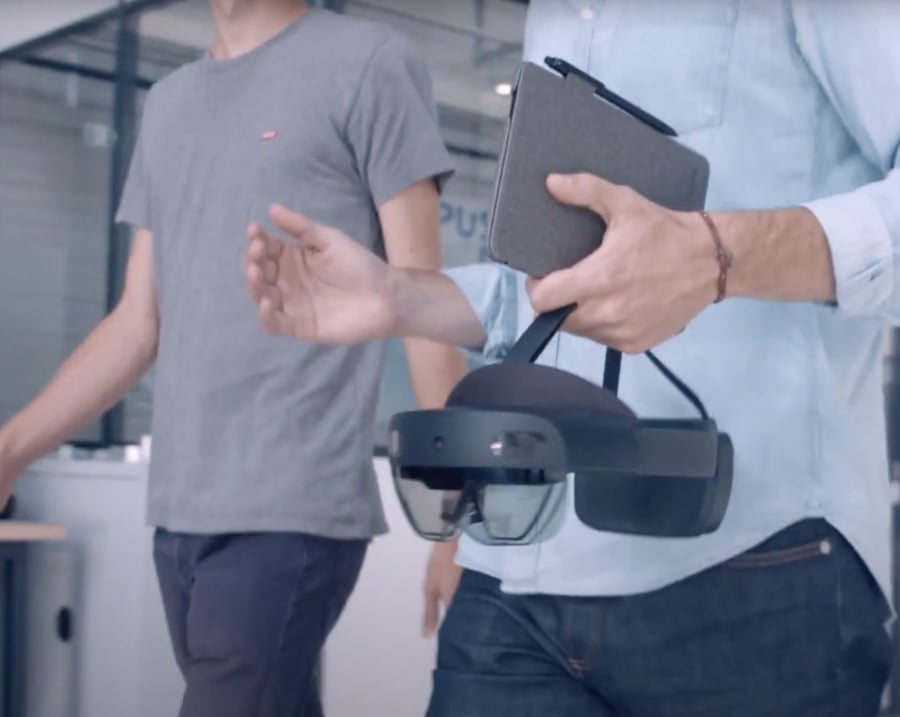 Augmented reality can be easily integrated into your production and maintenance operations so that it can be used by your operators on a daily basis. Reduce your machine downtime, quality defects (scraps, waste, non-conformities, etc.) and improve your team's skills. Thanks to augmented reality, you are entering Industry 4.0. It makes optimising your processes easier for quick & visible benefits.
How will augmented reality reduce my operating costs?
When your technicians put on their augmented reality headset, they become experts.
Thanks to augmented reality, your operators' hands will be free to perform unusual, complex tasks which may require special expertise and/or skill. The instructions and support images they must follow are displayed directly in their field of vision while the equipment they have to operate is marked with holograms. This means they will know in real time:
Which task to carry out?

How to carry it out?

Where to carry it out?
Thanks to this 4.0 assistant, your "augmented technicians" are guided at each stage of the process, so they make fewer errors, spend less time on each industrial operation and self-train on a daily basis. Because it is easy to operate, the Spectral solution facilitates the handover of know-how between operators without any specific training. Everything has been streamlined as much as possible to facilitate processes while reducing the time spent on them and improving the organization.
Industrial augmented reality creates a virtuous circle which will improve productivity, quality and your employee/customer satisfaction. You will find your 4.0 technicians are also more motivated, as their skills are optimised by this technology which improves the quality of your products.
How do you determine a good use case/application for augmented technology?
Identifying use cases which produce a rapid return on investment is the key to the success of any project which involves integrating augmented reality in industry.
Here are some questions to ask yourself to identify a good use case:
Which operations affect my machine downtime the most?
What is the source of the problem?
Which operations result in quality defects?
Which ones cost me the most?
Which operations require an expert to be present?
Why must an expert be present?
Which operations are a major challenge in terms of security?
Which levers can improve security?
The purpose of this ideation phase is to identify the operations which result in the most errors, non-conformities, anxiety and lost time, while remaining focused on the problems faced by operators.
Examples of augmented reality applications
In industry, augmented reality solutions are generally used in three areas:
Production
which includes manufacturing, quality, continuous improvement and lean management processes.
See use cases
Maintenance
which includes preventive and curative maintenance operations (with fault trees)
See use cases
Training
to help new recruits or temporary workers integrate and develop operators' skills
See use cases
Augmented reality applications
with an immediate ROI in production:
Change over

In the case of change over (changing batches on a production line), augmented reality can be used to resolve issues relating to downtime/setup time, quality, operating errors and production waste associated with this process.

By digitalising operating procedures and guiding operators through each step directly in their field of vision during series changes, you will:

get it "right first time"
reduce operating and setup times and therefore machine downtime
improve overall quality
harmonise the skill levels of the operators responsible for format changes
save time and, therefore, continually improve your industrial processes.

Line clearance

In the pharmaceutical industry, production lines are cleared before changing batches when needed. If this is not carried out correctly, they could be contaminated and anomalies or material damage may occur. This process is even regulated by the industry.

If anomalies are found when clearing lines, this is also a challenge as they often occur late in the process when new batches are produced.

To overcome issues like these, Spectral assists operators upstream, so that they can see where particular attention is needed, and which parts of the line need to be checked when carrying out the process. Your operators will follow a step-by-step process during which they will have to confirm their current task is done to move on to the next one.

Having an automated process is reassuring for technicians and operators, as it assists them at each stage, so they are much less concerned about making a mistake and experience less stress.

The solution eliminates human errors, decreases anomalies significantly, reduces machine downtime and, of course, improves quality. The productivity gains can be measured very quickly.

Quality control/Final inspection

Spectral assists operators who are responsible for quality inspections. As these processes are often long, complex and require those involved to pay particular attention, omissions and errors may also occur. Some of the many consequences include faulty products, increased service costs, return logistics that need to be managed, customer penalties, etc.

By wearing the augmented reality headset, the user can see:

the parts of the product to be inspected (marked by a hologram)
the instructions of the control method
support images (e.g. a photo of a compliant product)

and by allowing the operator to easily report an identifies defect (it is possible to provide text, photo, video or voice alerts), Spectral assists you as you improve customer satisfaction and optimise your costs.

Technicians perform their tasks perfectly, saving you operating time and improving your production processes.
Augmented reality appications
with a ROI in maintenance:
Lockout / Tagout

Lockout processes involve securing one or more machines or components of the production infrastructure in order to carry out maintenance.

This process can be complex or anxiety-inducing for operators. In addition to following instructions on paper, your operators have to:

wear lockout equipment
follow a process while using their hands
and, most importantly, not forget anything, in case they cause an incident

However, by using the Spectral solution, your operators will be able to perform lockout processes with their hands free. As a result, they will feel more comfortable, so they can work calmly and without stress.

When technicians put on their augmented reality headset, they are guided to each lockout point by an arrow which the Spectral solution displays in their field of vision. They are shown:

a visual reference indicating each part to be locked
all the lockout instructions to be carried out

In addition to this information, you can also add photos of the equipment to be used beside the equipment to be locked out.

One of the many advantages of the Spectral solution is that it is easy to adapt all the instructions, documents, photos, lockout points for your site, technicians and operations.

You can create new instructions if the machines, layout or organisation of your production processes change. The solution adapts to your business.

Calibration and adjustments

Calibration, be it mechanical or otherwise, involves taking measurements using a so-called "benchmark" reference tool to adjust an instrument. It ensures the proper functioning of the machines and, therefore, the quality of the finished product.

Spectral lets you easily standardize the process and, most importantly, make it accessible to everyone. Intervention times are reduced and there are fewer errors. The person responsible for making these adjustments can see at a glance, next to a sensor, for example:

Which value is to be reached
Which instrument to use
How to proceed

Augmented reality will bring operators' skills to the same level, and reduce machine downtime, caused by calibration errors, and waste.

It improves the handover of know-how between technicians, because each task is documented and accessible to a greater number of people.

Operators are more comfortable carrying out their tasks, as they know that the 4.0 assistant will guide them through each step to be carried out.

Inspection, maintenance rounds and inspections

Maintenance inspections involve checking, by following a route and tasks which have been defined in advance, whether machines are functioning correctly.

During these preventive maintenance operations, technicians wearing an augmented reality headset are visually guided along the route to be taken (by arrows). To assist them, Spectral provides technicians with all the information they need to carry out the inspection correctly:

The machines to be maintained are identified
3D images are displayed
Explanatory videos are provided if necessary

After connecting Spectral to your CMMS, the operator will be able to:

report problems found using the tool,
visually validate (by taking a photo using the augmented reality headset) that everything is ok.

Spectral can be used to optimize maintenance inspections, control human errors and measure time saved, because it is very easy to connect to your CMMS.

Having a reliable tool which is available to provide assistance at all times is reassuring for technicians responsible for maintenance operations.

Troubleshooting

Spectral assists all your maintenance technicians, working on-site or off-site, by guiding them like an experienced assistant.

One of the main issues with curative maintenance operations is aligning know-how. Experienced technicians will, of course, take less time to troubleshoot than someone who is just starting out and they are also very often called on by other teams.

By applying their know-how when using Spectral, they are sharing it with all the teams. Moreover, creating a fault tree is very simple.

This means that when technicians put on their augmented reality headset, they simply have to follow the scenario proposed. In addition to instructions, we recommend adding exploded-view diagrams to enrich the user experience and improve effectiveness.

Technicians are, therefore, able to improve their skills and your team will all become experts, thanks to augmented reality.

Intervention times are reduced considerably, breakdowns are repaired and the productivity and availability of machines increase.
Augmented reality applications
with a ROI in training:
Training

The main objective of this step is to transform their acquired theoretical knowledge into operational skills in order to validate the training process without wasting time.

Augmented reality means you can train your new recruits by combining theoretical and practical training. By putting on an augmented reality headset, they can learn how to operate equipment while following instructions in their field of vision.

Thanks to this tool, training times are reduced, the time spent by trainers on the job is optimised and the handover of know-how is guaranteed.

Human errors can be controlled and easily identified, so everyone's skills can be streamlined.

The Spectral solution is the direct gateway to Industry 4.0 where humans are assisted by augmented reality, which improves their productivity, makes them feel happier and ensures the continuation of complex industrial processes and excellent product quality.